Here we are again to celebrate the most talentuos cosplayers in our "Cosplayer of the Month" corner. After a really good International cosplay (Joey Angelus as Jaina Proudmoore), we're back in Italy to meet Alexander Nozza, a "rookie" cosplayer that is already showing that he can stand for himself in this colorful universe with his original and well done project: Hiccup, directly from How to Train Your Dragon 2.
Without any delay, let's start our interview.
Hi Alex! Welcome in a new fantaspectabulous episode of "Cosplayer of the month"! Now, we that are interviewing you have some idea of who you may be, but there are many staynerdians out there who don't know you. Do you mind starting with some presentations?
Of course… Hi folks! I'm Alexander, twentsy six years old and I have been living in Rome for a couple of Months! I grew in Berk-BERGAMO! I meant Bergamo, I swear…and cosplay is not new to me, even though it wasn't a full fledged hobby . Now, after almost four years of total inactivity, I got back into action with a brand new passion , and I hope my works will be liked.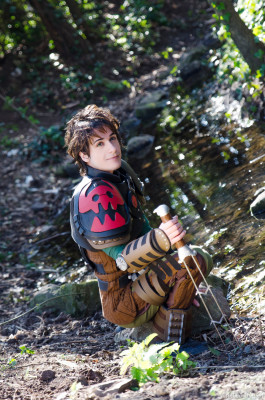 Since presentations are done, let's move on the reason we're here. Your amazing Hiccup Cosplay, from How to Train Your Dragon 2. There is a particular reason  for you to chose that particular character. We mean besides being probably created in laboratory to be a real life version of Hiccup (our theory).
Aw how cute, thank you! I'm always so happy when they make me notice I look like Hiccup! He' s a character I care for a lot and it's the main reason, after a long time away from the cosplay world, I felt the need to try and create his costume.
After seeing How to train your dragon 2's evening preview I got out the cinema shocked by the emotions that movie gave me. The first chapter already made me feel deeply connected to Hiccup ( our character is similar in many aspects, both in good and bad) and as I loved dragon since I was a child I couldn't fail to become a fan. Everything about Hiccup in the second movie struc me: his dark-tinted armor, and his helm, which recalls Toothless' shape and color, to symbolize their bond…the fact that he has a sword, even though he uses it to train dragons and to get closer to them (a blade to unite, not divide)…and the adventures he lives in the movie and the way he approaches them. I felt him close! And I assure you that at the time I was only thinking about making a "good costume", because I wasn't aware of my PHYSICAL resemblance to the character. I noticed only when I wore it and while reading comments of the first who saw my previews! So no, I can't brag about a colorful background like being some evil genius/fan's lab experiment!
Let's get a little serious again, how about you talk about your career? Your curriculum says "actor, cosplayer, model, fan vocalist, graphic, writer". We get the impression that your days are always full of things to do!
Oh heck! I look like some kind of handyman, it's true, but in truth almost everything that Is written there (or everything?) are things I did as a hobby or personal projects…a little like cosplay, basically. I actually studied acting and worked in theater for a very short time, and I worked in a fashion agency in Milano  as model for clothes catalogues, it's true. About the "fan vocalist" part, I indulge in dubbing and fan-covers! Last years I kept updated a youtube channel on which I used to upload Disney's songs covers reinterpreted by me,  and it wasn't doing half bad. One of my first cover, today, has around 50.000 views. As graphic I always worked on templates and forum layouts, blog and webpages as freelance, so it's something I am very good at, but use these skills mostly on the graphic elements of a videogame I am doing myself.  As writer I did some things, like publishing some of my short stories and poetry on books that gathered young authors writings. I always kept myself busy creating, creating and creating!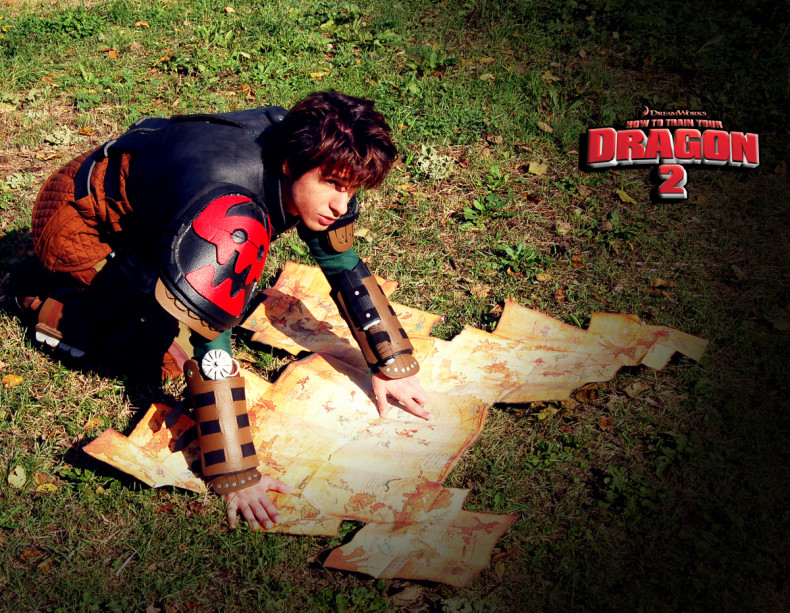 About the "technical" part of your cosplay, it was hard making it? You planned and created all by yourself (accessories included), or you asked for advice to friends/"coworkers" ?
Difficult? Yes! I never worked on an armor and that material, so it was a huge first time. Until completion I didn't make public that I was working on Hiccup's costume ( I already decided that If I wasn't satisfied with it I wouldn't used it at all, so I did it to avoid bad luck) so I managed to do it alone, working as much as I could in my room in Rome's hot august and September. For the fabric part, the help and support from my mother, from Berk-gamo, was fundamental! Paper models, everyone!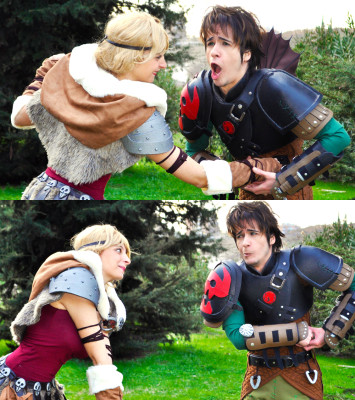 From the activity on your pace we can't fail to notice that you're starting to have a nice number of fans, even international ones. How does it feel being loved from the big crowd of internet?
It's true! Actually it all began on Tumblr, and it's relatively little time since my activity migrated on Facebook. I uploaded regularly cosplay pics, gifsets and videos and in little time got many more followers than on my facebook page, again internationals too. It was already extremely stimulant and seeing that even outside the fandom's corner on tumblr people appreciate what I do makes the effort worth it! I'm getting the chance to know a lot of people from different corners of the world and the thing is, other than fun, extremely instructive!
Given the fact that recently many new "nerdy" fairs, shows and festival are being born in Italy, what do you think about Italian cosplay's situation? 
If I have to tell the truth, still consider myself a little too "out of the league" to express my opinion exposing myself too much.  Only fairs I went to are Romics and Lucca Comics, and I didn't run into the competitions.  From what I saw, the costumes level ( beauty, complexity and scenic effect) really skyrocketed compared to some years ago, and I can say this as I had a sabbatical from the sector. Years ago thinking about two Romics in the same year would have sounded like nonsense, but given the affluence that these events get I find it now more than justified.  It's activity that at the time was seen as a farce, but now is appreciate as visual show, fun and stimulating! I hope that in this the progress moves forward, because cosplay is an activity that other than amuse can really help to not forget how to play and dream, even when you're not a kid anymore…and I'm pointing myself!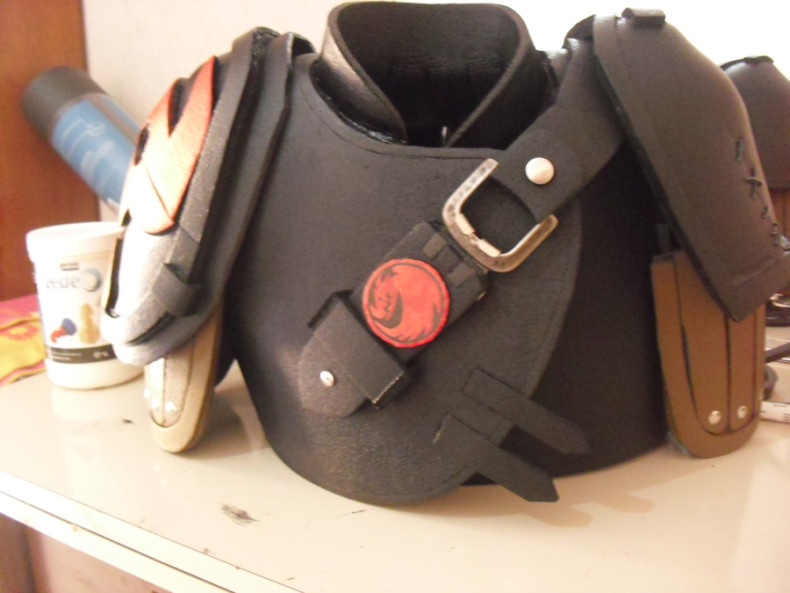 Do you have already some ideas on what could be your next cosplay? There are some irons on the fire?
Actually I have more than one idea! I have three sure names as next cosplays, one of which will be brought directly to Romics in April, may one of my legs fall off! (and in that case my Hiccup cosplay will only gain from it). I don't have a lot of time though. Like Hiccup, I'm testing myself with new work and building techniques, but if everything goes smoothly in april I should land at Romics' gates with my brand new superhero Hiro Hamada's Armor!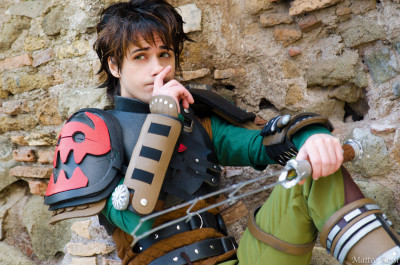 Usually we like to close our corner with some gems of wisdom from the cosplayer. Do you have some advice, opinion or secret you'd like to share with our readers?
Well, as I say, I consider myself a newbie in a lot of things, even more in technical ones. If my works somewhat succeeded it's for a simple reason, and I feel like telling it: you have to be DARING! Besides it being an advice for life, not only for cosplay, I mean that usually even if we have the chance to create something beautiful, we let ourselves be blocked by a thousand of limits we put on us, you understand? "I don't know how to work the material", "I don't have money", "I'm not good at it", "I don't know how to do it"…guys, I picked up a cheap material that I've never worked on before an I dared! Maybe it's not the best costume in the world, also because I'm only a rookie, but…it's doesn't suck, doesn't it? DARE! Always dare!
Well Alex, it was a pleasure! But before hopping on Toothles and fly away, how about you say goodbye to our fans that stood with us until now?
My pleasure!  WHAT?! Are you telling me that someone really read all my interview? Oh dang…well a special hello to all of you, wonderful dragon riders, and to Staynerd's staff!
See you!
Remember: if you want to become our "Cosplayer of the month", don't wait for someone to notice you! Send us an e-mail at [email protected] with your work! Pictures, videos, anything you want to show us how and why you've done it, and you too could be chosen for a spotlight on these pages!